Delpech Piscines à Cahors ... in the press. What if your project becomes reality?
Original article published in DIRE LOT January 2018
Join DIRELOT on Facebook or subscribe to the paper version
What if your project becomes reality?
With more than 50 years of experience in the heating specialist profession, the company Delpech, located in Cahors, now has around 20 employees. The family business, managed by Fanny Parre, has built its reputation on the quality of its facilities and the rigor of monitoring each project. Its expertise has gradually extended to other additional services, always dedicated to home comfort. Dealers of the Carré bleu brands for swimming pools and Jacuzzi for relaxation and well-being areas, Etablissements Delpech have chosen benchmark partners meeting all quality requirements.
"Since 1966, we have been creating and renovating facilities dedicated to home comfort. Extending our services to the world of swimming pools and spas was a logical and coherent development in view of our know-how "explains the manager, aware of the evolution of the demand of her customers, in constant search for more comfort.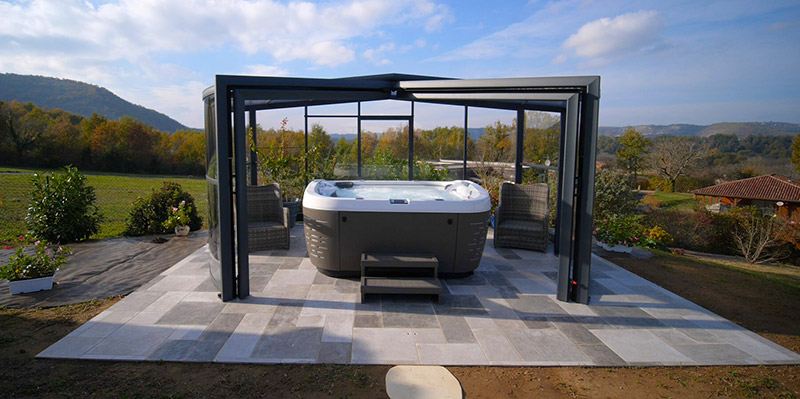 Priority to comfort
"Beyond the creation and renovation of pools, we must now respond as closely as possible to the requirements of our customers who wish to simplify their lives and take full advantage of their equipment, without worry. Pool shelters or automatic disinfection systems, we have the skills to intervene thanks to our specialized technicians. For swimming pool heaters, our refrigeration employees have expertise to guarantee the customer the perfect operation of their heat pump. We even go as far as coordinating the surrounding developments by calling on qualified masons from the region and local nurserymen to landscap the spaces and integrate them as well as possible into their environment "specifies Pierre Bourgnou, technical manager for swimming pools. With a single point of contact for the entire project, the client can thus have a clear and transversal vision.
A wide, qualitative and accessible offer
Mirror swimming pool, glass walls, swimming lane, collaboration with architects, Carré Bleu, pioneer of made-to-measure swimming pools in France, has always been a pioneer of trends and innovations. But as with Jacuzzi's spas, if excellence and quality are the very foundations of both brands, the prices offered offer great accessibility.
"With Jacuzzi, we go beyond simple well-being thanks to the concept developed by the brand. The patented air-water exchange system offers real balneotherapy treatments. Demand is growing for this equipment which allows use 365 days a year in water at 31 ° C. To understand and live the Jacuzzi experience, we have set up a test area in a dedicated room, reserved for our future customers wishing to try our products before finalizing their investment. If we can tailor both for individuals and for professionals (hotels, guest houses) in the choice of dimensions, colors and materials, we can also offer individuals high-end solutions that are just as qualitative. for less than 7000 euros. Also, thanks to our BNP authorization, we can fully finance the project and provide our clients with advantageous conditions, "continues Fanny Parre.

In all serenity
To enjoy your heating, swimming pool or spa installation with complete peace of mind, however, it is essential to be able to count on an adequate after-sales service. It is on this point that the teams at Delpech endeavor to work with rigor and responsiveness. "We make sure we are always available and intervene as quickly as possible. In order to meet customer comfort, we also offer maintenance contracts adapted to each individual. »Insists the technical manager.
Original article published in DIRE LOT January 2018
Join DIRELOT on Facebook or subscribe to the paper version