Delpech Piscines à Cahors ... in the press. Bring your projects to life!
Original article published in DIRE LOT May-June 2020
Join DIRELOT on Facebook or subscribe to the paper version
Delpech Carré bleu, At the service of your projects
Specialized in heating and home comfort for over 50 years, the family business Delpech, based in Cahors, has extended its expertise to the world of swimming pools and spas. To design tailor-made projects and create high-end relaxation and well-being areas, adapted to everyone's desires, the company has surrounded itself with two leading brands in their positioning in order to aim for excellence: Carré bleu and Jacuzzi.
For Fanny Parre, manager of the company, it is the notion of "provision of services" that takes precedence above all: "We support the client from the filing of building permits to the follow-up of personalized maintenance with à la carte contracts, depending on needs. Beyond our expertise in the technical implementation phase, we must provide advice and service before, during but also after the completion of the project. The idea is to guarantee the greatest serenity and allow everyone to fully enjoy their equipment in the greatest comfort and without the slightest worry. For swimming pool heaters, our refrigeration technicians have expertise in ensuring the perfect functioning of the heat pumps (issuance of the refrigeration fluid tightness certificate). "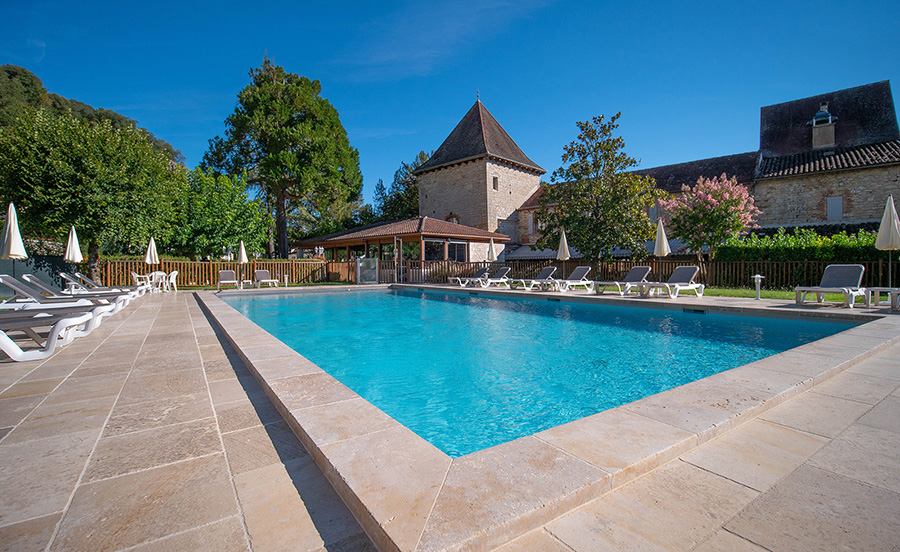 Custom swimming pools and wellness areas
On the pool side, to help its customers plan, the company now offers to configure the pool in space using dedicated simulation software, in 3D. Mirror pool, glass walls, swimming lane, indoor pool, small or large pools, to each their own space, to each their own project.
Note that the Ets Delpech Carré Bleu will also be able to coordinate the surrounding developments by calling on qualified masons from the region and local nurserymen to landscap the spaces and integrate them as well as possible into their environment.
In terms of well-being areas, a private test room fitted out with a Jacuzzi spa is available to customers for a free test in order to live the experience and test the proposed features: ergonomic seats, Classic Jets nozzles, purification system Clear Ray waterfall, soothing waterfall, LED lighting. Indoor or outdoor spa, integrated into the pool, overflow or built-in, all solutions are possible. Note that a sauna with therapeutic virtues will soon be offered for testing.

Tailor-made maintenance contracts
- "Serenity" contract: opening / closing of the swimming pool
- "Privilege" contract: opening / closing of the swimming pool + 4 interviews planned à la carte during
the period of operation
- "Freedom" contract: à la carte to ensure a maintenance mission
Maintaining your heat pump
To guarantee the life of your device and ensure its performance; avoid losing degrees, save
water and control your electricity consumption. Service performed by a refrigeration professional and delivery of a Certificate
maintenance. The detection of possible small repairs or the replacement of wearing parts will also prevent you from
unpleasant surprises in the event of a serious breakdown.
SPA contract
Annual visit of your spa (any brand) with 11 checkpoints carried out by a swimming pool and
professional well-being. Two types of contracts available according to your needs and à la carte services (passive wintering and restarting
after wintering).
Services in +
Possibility of subscribing to direct debit for all maintenance contracts. Possibility of smoothing the costs
maintenance (monthly, quarterly or semi-annual payment) for more flexibility. Preferential rates are offered
to customers who also use the company's services for the maintenance of their home heating equipment,
air conditioning, heat pump ....
Original article published in DIRE LOT May-June 2020
Join DIRELOT on Facebook or subscribe to the paper version